Wedding Videography Near Me
If you're searching for 'wedding videography near me' look no further than Mills Films. We are a professional wedding videography company covering all of the UK as well as abroad. As experienced wedding videographers, we capture the best day of your life and tell the story of it through beautiful videography.
One of our main goals as wedding videographers that are near to you, is to film your wedding in the most discreet way possible. All we are trying to do is be in the right place at the right time as well as the right distance from people to film special moments without being noticed. Due to this, we will not ask anybody to pose or do anything in front of the camera, that's not our style. This approach allows your big day to be captured naturally whilst having life long memories to treasure.
Wedding Videography & Venues Near Me
We know couples we are to marry regularly search for wedding venues near me so why not encapsulate every moment in that amazing venue with wedding videography. Quite simply, Mills Films produce memorable, unique wedding videos, crafted individually to you. We know that every couple's weddings are different, so every wedding film we produce is different. Your wedding film is about you and your big day, and together we will take the time to tailor a style and wedding film which is truly 'one of a kind'.
For full wedding coverage, our pricing starts at £2,250 depending on the date, location and requirements. If you would like to find out more about Mills Films or have any questions about the best wedding videographers near you then please do not hesitate to contact us, we're happy to help.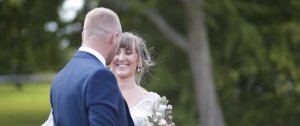 Looking for wedding videography near you?