10 Things to consider when choosing a wedding videographer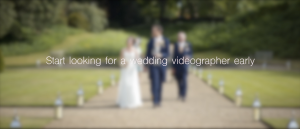 1. Start looking early
All the good wedding videographers are going to be booked up 6 months, 12 months or even 2 years in advance. So as soon as you have your venue and you know the date, contact your videographer early because they will get snapped up!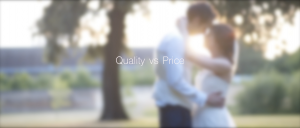 2. Quality vs Price
There are wedding videographers out there that will do your wedding for £300. There are wedding videographers that will do your wedding for £1,000 and there are wedding videographers that will do your wedding for £10,000. You need to make the decision about what your wedding means to you. If you go for a budget wedding videographer, you're likely to get a film that is of lower quality. That's not always the case, but it's likely to be of lower quality. If you get a low quality film, it's more than likely that you're not going to watch it.
So it depends on you and what you want out of your film. If it's something that you want to watch again and again throughout your life then it's worth the money to get a quality videographer. Because at the end of the day it's your wedding, you've paid a lot of money for the venue, you've paid a lot of money for the shoes and the dress, so you might as well have the film that you want to go with it.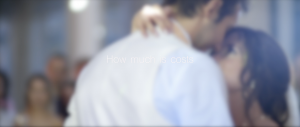 3. The cost you can expect to pay
The price is set by you. You can get wedding videographers that will do it for free. You can find videographers on websites like Gumtree, that are just starting out, and are looking for films to fill their portfolio. You can get wedding videographers that have just entered the market for £300 – £500. Or you can go all the way to the top, and find wedding videographers that are £10,000 – £15,000.
On average, for a good wedding videographer you are looking for £1,800 – £2,000, depending on the product that you want. If you want to add second, couple interviews, non-disclosure agreements or add aerial footage, then the price will likely go up. But you starting point for a decent wedding videographer should be 1,800 – £2,000.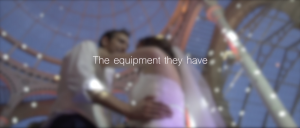 4. The equipment your videographers will be using
It used to be the case that your wedding videographer would have big bulky cameras and tripods, and walk around and disrupt everybody but things have moved away from that. Technology has moved on. We now film weddings with tiny DSLR cameras that look very similar to the cameras that your photographer use. So we blend into the background.
It's worth asking your videographer what equipment they use, because they should be able to get away with using small, portable equipment that is very unobtrusive to your day.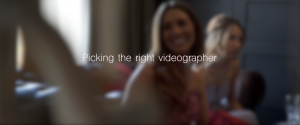 5. Picking the right videographer
Well this all depends on you. Price, how much do you want to pay? How much are you willing to pay? How much is the quality of your product worth to you? Documentation, find out if they have the correct insurance to work for you. Especially if they are using drones and flying things around, check to see if they have the correct licenses and insurance. There are lots of videographers out there using drones without a license, that ultimately cost you and your venue. Your videographer should have public liability insurance.
Check the style of their work. Please don't contact a wedding videographer and ask them to film your wedding in someone else's style, because it's not going to happen. So make sure you like the style of film that they showcase, as chances are yours will look very similar.
Try to meet your videographer, talk to them on the phone or have a thorough email exchange so you have a good idea of what they are going to be like before you meet them on the day. So make sure your personalities click.
And finally check the equipment that they use, make sure they use the type of equipment that you are comfortable with!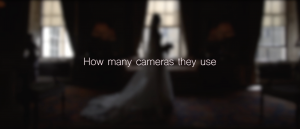 6. How many camera they use
The amount of cameras used depend on how many videographers will be working, and how big your wedding is. You can shoot a beautiful wedding with just one camera and you can shoot a beautiful wedding with four cameras. It all depends on the style and size of your wedding.
Typically you should have two cameras per videographer. One camera that is being manned by the videographer, and one camera set up as a safety shot. You should also have somewhere in the region of four microphones to capture the audio. So expect something like two cameras per videographer, and four or five microphones.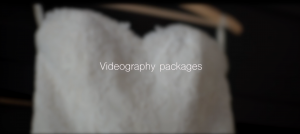 7. Videography packages
The kind of package that you should choose depends on you. If you want a laid back, documentary style film that you should be fine with just one videographer. If you want a big cinematic, punchy and big production wedding film, then you are likely to going to need more than one videographer. You also need to consider whether you want the bride and the groom preparations captured on film. If you do, one videographer cannot be in more than one place at a time, so a second videographer is probably needed. So what package you should get depends on the final product you would like produced.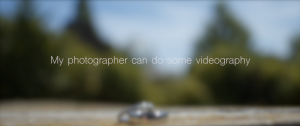 8. My photographer can do some videography
There a lots of companies out there that offer both photography and videography. Indeed, some companies send one person to do both at a wedding. If you're serious about your wedding video, then you are going to want separate photographers and videographers.
Remember that your photographer and videographer are both there for the same thing. They both want that shot of the bride walking down the aisle, they both want the shot of the kiss. They're both there for the same reason. Sometimes they can be in competition with one another, so it's important that your photographer and videographer develop a good relationship. Check to see if your photographer and videographer have worked together before, or if the photographer or videographer you like can refer you to another good supplier.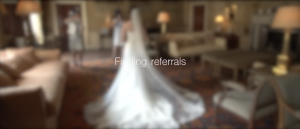 9. Finding referrals
Referrals are a really good way to find videographers and photographers. If your videographer has come recommend then likelihood is that they produce good films and they work well with photographer, which is good thing.  Again, referrals from the Venue is good. If a venue is referring a videographer or photographer, then chances are they have worked at that venue and they produce good films at that venue. They probably got on well with the staff, and that can only be a good thing. Be careful of recommendations from places like paid advertising websites, because videographers can just pay for the referral and that be sent on, so just check the quality of the source of the referral. When it comes to referrals, venues are good sources, photographers are good sources, as are musicians.
Friends are a high quality source for referrals. If you friends are recommending a videographer, it's because they've seen their work. Your friends have got nothing in it for themselves. They have seen their work and loved it, so referrals are a really good way to find your videographer.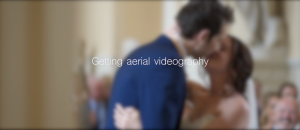 10. Getting aerial videography – Drones at weddings
Adding aerial videography to your wedding is amazing. It adds a dimension to your wedding film that you couldn't get in the past. Before you go with your aerial videographer, you need to check the location. If your venue is a mile from Heathrow, you're not going to get aerial videography at your wedding. Check with the venue itself. Some venues, like national trust sites, do not allow drones on site, so you won't be able to get any aerial work.
The last thing to check is check to see if your aerial videographer is licensed and insured. Ask to see the proof, they should be able to produce documentation. They will require a certificate from the Civil Aviation Authority that allows them to work for commercial work. If they do not have this then they are working illegally. If a drone falls out of the sky and damages property or injures somebody, you don't want to have to deal with that with your videographer if they not licensed and insured. They blame could fall back on you! But one thing is sure it will add a banging extra dimension to your wedding film!
I hope this helps you find the right videographer! Have a look around our site and if you like what you see please don't hesitate to get in touch!