Wedding Videographer Solihull
Solihull Wedding Day Plans
A wedding video is the ideal way not to miss a moment from your special day and keep the memories lasting a life time.  So getting a Wedding Videographer near Solihull should be one of those first Items to tick off your list when considering your marriage day plans.   Getting your big day filmed in our opinion is the best thing you can do!  Finding a Videographer in Solihull that has experience of working at your chosen wedding venue should be easy! These are the first thoughts of many, when you start to add to that other factors such as the video maker being able to guarantee a five-star rating, this should also be backed by their real reviews and onsite testimonials. Then lastly, you should check that the price they have advertised includes all of the services they offer! So your wedding video might not be as simple as you first thought!
Wedding Videography services
Your wedding Videography Company should be able to provide you with details about the venue, where the best shots are going to be taken and how they are going to be able to deliver what you are after.  Do you want the first dance videoed? Is the wedding reception location at the same Solihull Location as the wedding Vows?  Would want to include shots from a Wedding Hire car, would you like the video to be filmed for a whole day or just part of the day? for instance some brides like the complete package from getting their hair and makeup applied alongside a glass of champagne in there room, all the way through to getting in the bridal car, meeting the guests at the church, videoing the guests arrival, the Bride and Groom arrival, breathtaking entrances down the Aisle, placing of the rings, reading of speeches through to the first dance and the last dance helping create your prefect wedding video.
Recommended Wedding Video Options
With Mills Films you will have a complete day of unforgettable memories captured for you on video but also have a shortened streamed version created by an experienced, reliable and professional near Solihull Wedding Videographer – The memories will be supplied to you on a custom printed DVD and provided in presentation cases, there is also additional options Like USB flash drives and cloud-based storage so you can share access and enjoy your Solihull wedding again and again.
Please feel free to explore our site and if you require any more information please don't hesitate to contact us.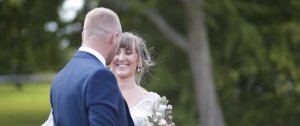 Looking for a wedding videographer in Solihull?